International Students are welcome to apply for the Arts Co-op Program during our annual intake each September.
Eligibility requirements are the same for all undergraduate Arts students, including international students.
To view a full list of requirements and application steps, view the Apply for Co-op page.

Applying for and Landing Co-op Jobs
Securing a co-op position is similar to a typical job search outside co-op or after graduation, where an employer selects a successful candidate from several applicants. With the training and support we provide, students have a high rate of success in landing co-op jobs. This is particularly true for those who work hard and persist, as you can expect to apply to 20-30 jobs and attend multiple interviews to obtain your first co-op position.
Please keep this in mind when making decisions about your participation in the program and feasibility given your personal circumstances.
Considerations for Summer Jobs
You'll need to be strategic about when you apply, particularly for summer positions. Federally funded jobs, which are unavailable to international students, are mostly posted in April and May.
Plan to apply to as many jobs as you can from January through March to take advantage of a greater proportion of positions open to you.
Summer 2022 Job Postings by Month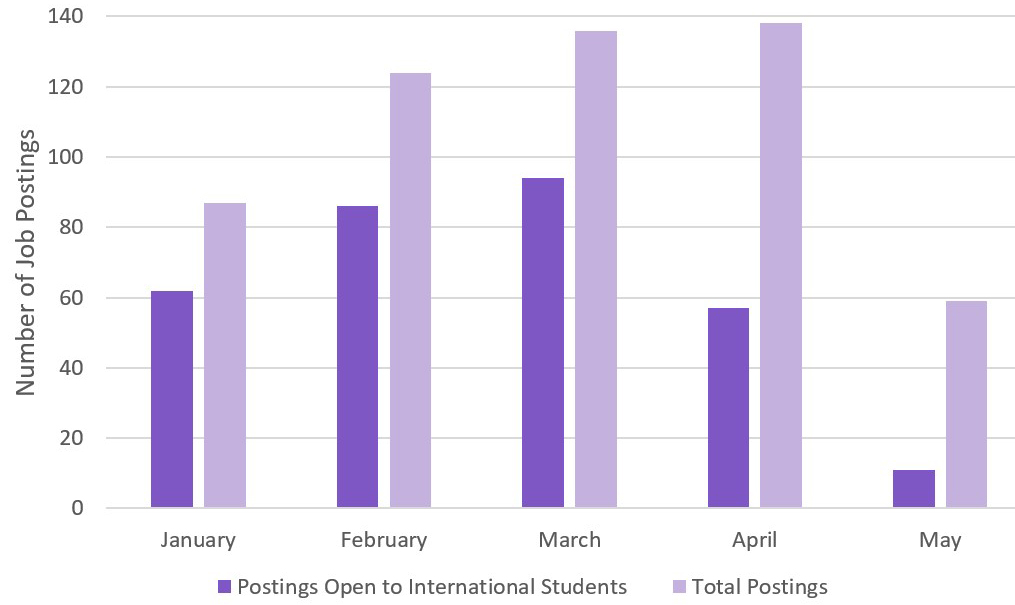 Employers Who Hire International Students
A diverse range of employers hire international students. Here is a small sample of the kinds of employers you can expect.
| | |
| --- | --- |
| RBC | First Nations Health Authority |
| Trulioo | Sysco Canada |
| SAP | BC Ministry of Health |
| WorkSafeBC | Samsung |
| ICBC | Deloitte |
| Dillon Consulting | BC Housing |
| Teck Resources | Kolb Law |
| TELUS | Scotiabank |
| Geocomply | Clearly |
| TRIUMF | UBC |
| Bench | TD Bank |
| Union Gospel Mission | BC Hydro |
Why ICBC Hires International Students
"ICBC provides services to the entire population of British Columbia. BC has habitants that come from the most diverse backgrounds and cultures. Hiring international students can bring a global perspective and diversity of thought. International students are proficient in different languages and have knowledge of the markets, business practices and cultures from other countries. They come with the ability to value, respect and learn from diversity. Demonstrate openness, inclusiveness, sensitivity and excel in diverse workplaces. Bringing those skills and abilities to our team contribute to a better understanding of our customers, growth of our teams and improvement of our processes."
– Angela Netto, Senior Talent Acquisition Specialist, ICBC
Eligibility for Positions
Certain sectors have different considerations for international students:
Non-Profit: In the summer terms, many non-profit organizations rely on federal wage subsidies to fund their student positions, which international students would not be eligible for. There will still be some non-profit positions that are not federally funded and would be open to you but expect that there will be more non-profit opportunities that you'd be eligible for in the fall and winter terms.
Government: International students are eligible for the vast majority of municipal and provincial government positions, and typically not eligible for federal government positions.
Private Businesses: International students are eligible for the vast majority of jobs in the private sector.
Stats on Eligibility
In 2021/22, these were the percentage of jobs that were open to international students.